Bartın
A former district of Zonguldak province and located in the West Black Sea Area, Bartın was made a province in 1991 and now it is populated with 78.000. It lies to the east of Zonguldak Province. The climatic characteristic of Bartın is that it is hot and humid in the summer while it is chilly and rainy most of the days in the winter months. Bartın is an interesting city with its natural beauty, beaches and historical structure. The city was named Parthenious earlier, which means "Magnificient running water". There are three districts in Bartın, which are Amasra, Kurucaşile and Ulus. Bartın's 59 km long coastal region presents extraordinary beauties with vertical and forested slopes. Amasra is an important tourism center with its unique natüre and 3000 years old history. Amasra is visited by tourists both in summer and in winter. Kurucaşile is one of the most important centers, where wooden boats are still being made in Turkey. People in Kurucaşile have been making various types of boats such as warships, fishing boats, and cargo boats since the Ottoman period until today. Ulus is a secret heaven with its waterfalls and plateaus, where each colour tone of green can be seen. Being within the borders of Küre Mountains National Park, Ulus is a complete natural wonder with its flowers, wild animals and encircling trees. As a matter of fact Bartın appears to be a student city, where the population density is already low.

You can get more information on Bartın's History, Tourist Attractions and Transportation to Bartın from the menu on the left of the website

.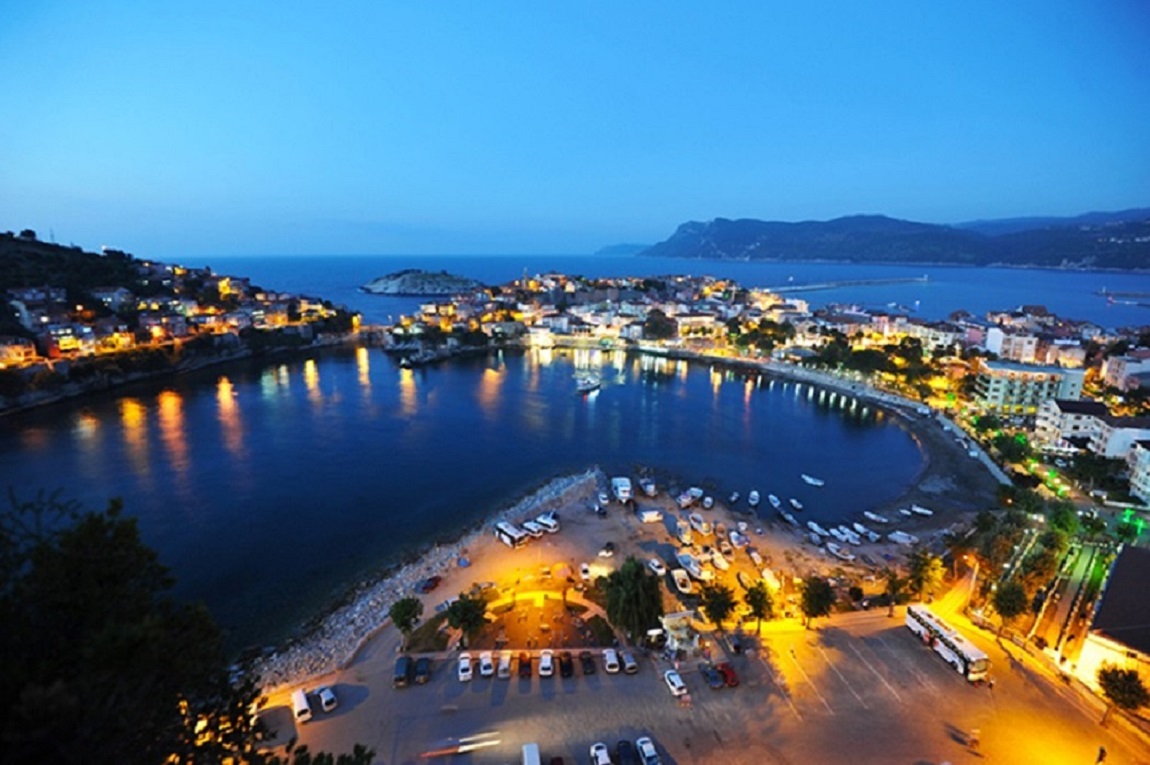 History of Bartın
A former district of Zonguldak province and located in the West Black Sea Area, Bartın was made a province in 1991 and now it is populated with 78.000. It is 270 km away from Ankara, the capital city, and 440 km from Istanbul.
Previously named as Pathenios, it dates back to 1200 BC and was dominated by Gargas tribe, Hittites, Phrygians, Cimmerians, Lydians, Greeks, Persians and Macedonians. Then, it was invaded by the Roman Empire and Byzantines until the Turkish invasion in the 11th Century AD. It was affiliated to Kastamonu during the Ottoman Empire. Bartın is now a member of Norwich-based European Association of Historic Towns and Regions (EAHTR). Bartın is also popular with its ancient ruins and wooden houses with old Turkish architectural characteristics and with its river going through the city on which the only ship sailing in Turkey is made. The city holds a Strawberry Festival, which is famous for on a national basis, in spring season. The climatic characteristic of Bartın is that it is hot and humid in the summer while it is chilly and rainy most of the days in the winter months.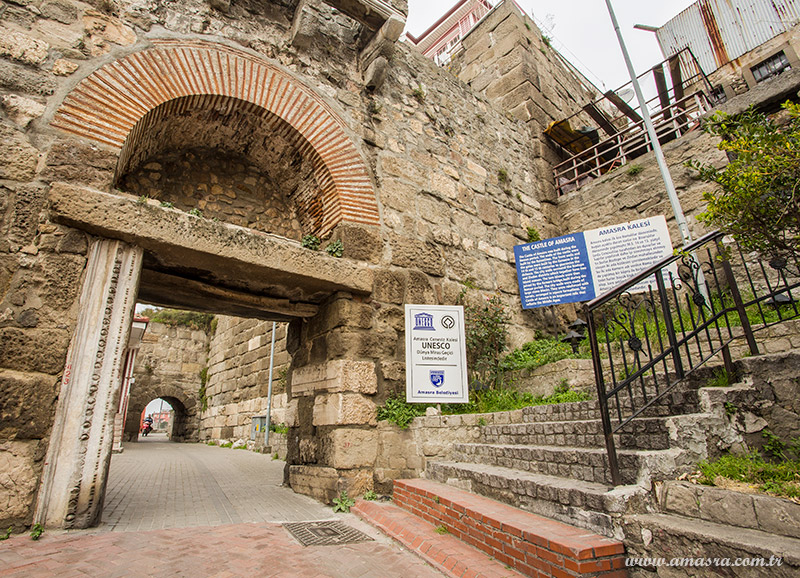 Tourist Attractions
Amasra
Bringing together the steep slopes and the Black Sea in the north of Bartın, Amasra, also known as Amastris in the ancient history, is set up on a peninsula and two islets which has got a port for small ships. It has a sandy beach which is 1.5 km long. It is so authentic that no one knows how it was created by God!

It is 17 km away from Bartın and one can reach there with his/her own car or by bus within minutes. Especially the tourists appreciate its beauty and beaches near the town. It also consists of a medium-sized archeological and ethnographic museum in which remains from underwater and land are displayed. The castle in Amasra was built during the Roman period. It is seen that it was under the control of different civilizations such as the Genoese, Byzantines, Romans, Seljuks and Ottoman Empire throughout the history.

In the Cekiciler Street of Amasra can be found hand-made wooden materials from various kinds of spoon to souvenir ships for your friends or family. If you are curious about Turkish history and natural attractions, explore more here!

Amasra awaits you!

More information and photos about Amasra you can check that web page, www.amasra.com.tr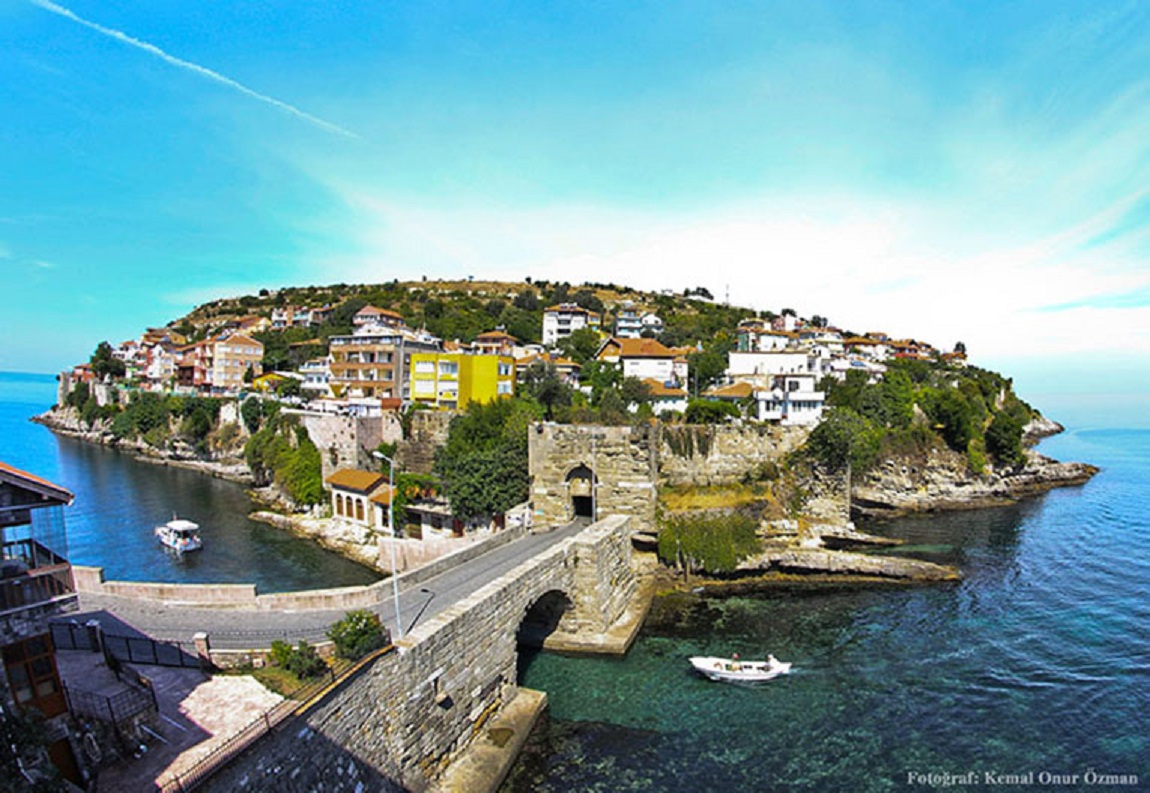 İnkumu


Inkumu, 15 km away from the city centre, is a tourist attraction and holiday resort which has unique beauties like its sandy beach (3km long) and meeting the green and blue parts of the Black Sea. Behind the beach is a set of houses, cafes, fish restaurants, hotels, motels and pubs, which accommodates thousands of visitors during hot days. Not only the local tourists from the neighboring cities but also people from different parts of the country and even abroad visit it for its beach and sea.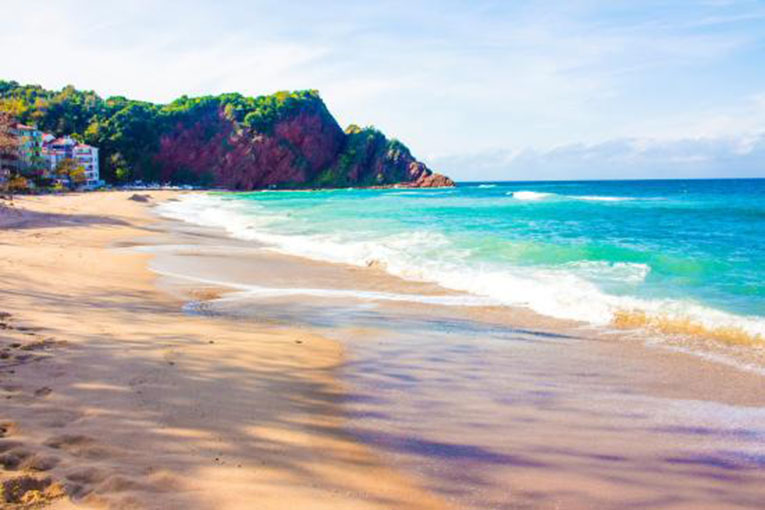 Çakraz


Being 20 minutes away from Amasra, Çakraz is attracting people, especially foreign tourists thanks to its serenity and undiscovered beauty. It also has crystal-clear sea water in which the fish is visible to the naked eyes. It is also observed that the sun sets in the water when you look at the horizon.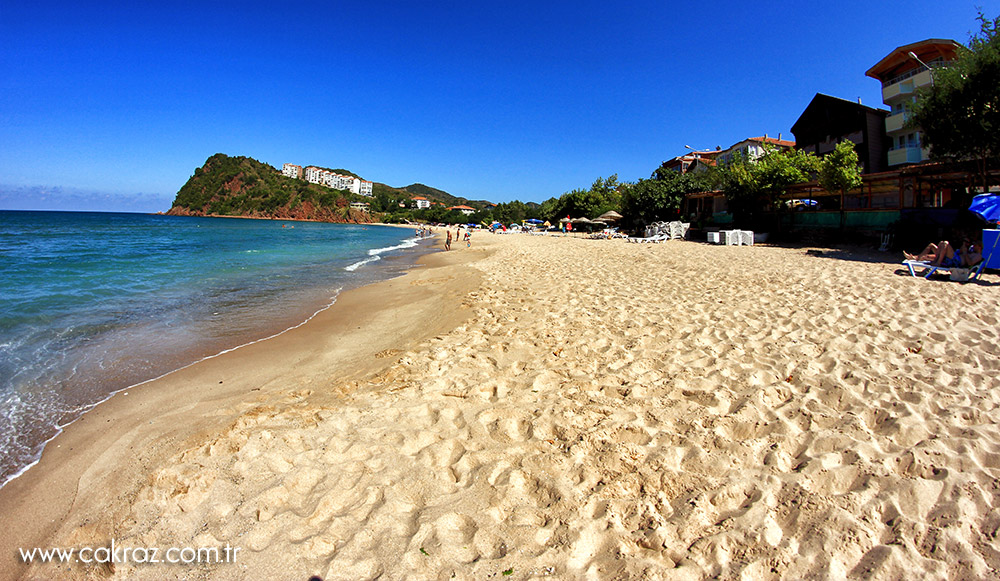 Küre Dağları


The Küre Mountains National Park is located within the boundaries of Kastamonu and Bartın provinces and covers an area of 37.753 ha. It consists of the geographic features as Valla Canyon and Ilgarini Cave; natural beauties like Ilıca Waterfall or rich cultural and folkloric resources with an extensive flora and fauna.
It is also the first member of PAN Parks (Protective Areas Network) in Turkey, which is an organization that aims to protect wild natural areas across Europe.
Although the tourists are not able to find any accommodation within the boundaries of the Küre Mountains National Park, it is not far from the city center of Bartın and the small towns around it. One can reach the National Park from Bartın through Arıt (32 km away), Ulus (37), Amasra (17), and Kurucaşile (55).
A variety of wild animals with a range of tens of mammals and invertebrates from Lutras to leptotes pirithous can be encountered during your visits.
You will have a fantastic experience during your visit the Küre Mountains National Park.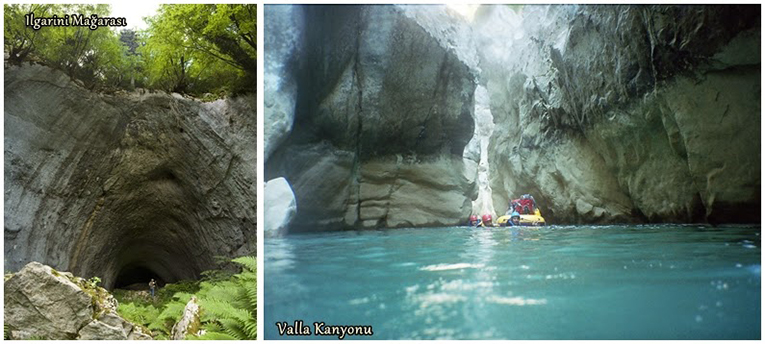 Safranbolu


Safranbolu district, which is within the Karabük provincial borders, is only 5 km away from Bartın. It is a model city that represents the cultural, historical and architectural lifestyle of Turkish community. It was declared as the World Heritage City in 1994 by UNESCO by means of its conserving the cultural and architectural heritage over the hundreds of years. One of the attractive areas of the town is the bazaar and the houses around it. The cemetery to the south is the best panoramic picture to the eyes. The town also consists of over 25 mosques each of which is of historic value.


Besides its historical places and houses, it also has attractive natural beauties. The intensive forest lands and valleys are very suitable places for picnics and trekking, climbing, cycling and other activities.
Yörük Village, 13 km away from the city centre, is almost an open-air museum with its 300-year-houses and public places that serve the community such as mosques, public laundry, and so on.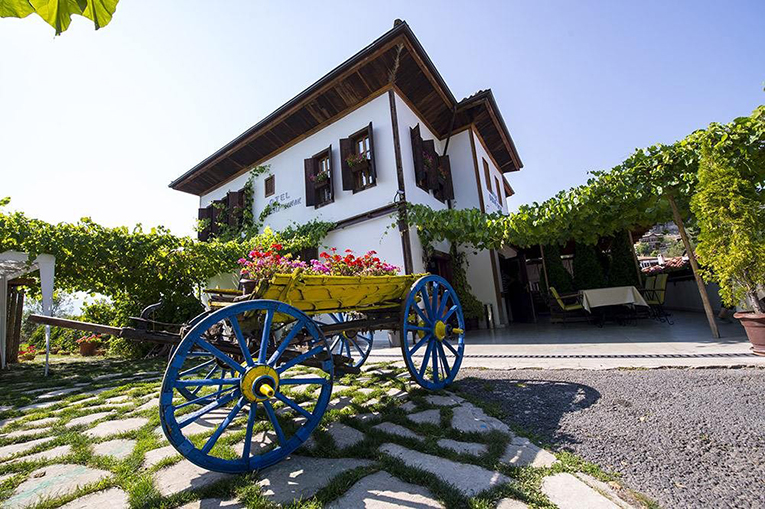 Yedi Göller


The Yedigöller (Seven Lakes) basin, 1642 ha, is another national park that is located in the West Black Sea Area and it is constituted by seven lakes, as its name suggests, which are connected to each other through above and under land streams reaching out 1,5 km length in total. Consisting of various plant species, the Yedigöller National Park also accommodates bears, swines, foxes, deers, blackishes and several more animal species. It is, moreover, also suitable for recreational activities like camping, sports activities, photography, picnic and so on.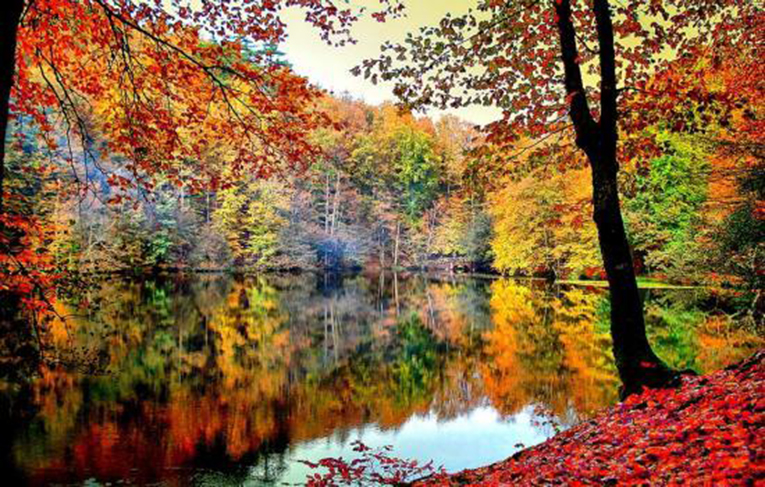 How to Arrive in Bartın

You can arrive in Bartın from everywhere in Turkey using highway transportation. You can also arrive Bartın by sea from Bartın and Amasra harbours. Air transportation is made through Zonguldak airport. From there you can use highway transportation. Bartın is 420 km from İstanbul and 283 km from Ankara.